HÅRETE
A rope act about hair and rope.
HOW IT FEELS TO BE A ROPE ARTIST
An act where I explain myself in the rope.
KRAM
Me and Hege Eriksdatter Østefjells have made this duo rope act together. Inspired by love and trust in a world full of chaos.
TANTER
Tanter consists of three Nordic artists presenting an all female circus performance that concentrates on the influence of society on the role of women. Featuring text, contortion, swinging trapeze, corde lisse and slack rope. Tanter consists of Karoline Aamås (a strong fast rope artist), Moa Asklöf Prescott (a slackrope artist with taste of drama) and Elise Bjerkelund Reine (a freak-magnet specialised in swinging trapeze and contortion), three wild women who want to change the world for the better. After finishing their studies at DOCH in Stockholm, AFUK in Copenhagen and CNAC in France they formed Tanter, and premiered their first show Vixen in April 2015. They make work which aims to create discussion and increased understanding between people, using circus to play with stereotypes and expectations. Vixen has been playing in Berlin Circus Festival, Circus City in Bristol, The Circus Village in Oslo, Høstscena – Ålesund Theatre Festival, AFUK in Copenhagen, as well as site spescific performances at Hawiila in Copenhagen and Hakkehuset in Silkeborg 2015. The show will continue touring spring 2017.
FOOT IN FACE
A collaboration with Mari Stoknes.
Foot in Face is first of all a research project. It is a working frame developed to have both space and time to investigate and research the artistic side of our art form. As circus artists we meet and train in bigger circus arenas/halls, which is a great way to exchange technical skills and motivation, it is however very demanding and sometimes undoable to focus on the creative and artistic work.
This is why we decided to launch the Foot in Face project. To come together in a space out of our normal training habits, to meet with time to exchange approaches and different ways to do, investigate, play, learn and appreciate our commune aerial discipline, the vertical rope. We believe that this project will bring our rope, knotting and hanging art, new and exciting influences.
KNEKKE GREINE
An interactive performative adventure in the forest. Starting from a blindfolded guided walk, the audience are led into the forest where three circus artist and a musician has let their creativity blossom. Inspired by ideas from «ecosophie», nature science, nordic myths and children play they guide the audience through a world of life in the forest.
BASTARD
The solo show Bastard directed by Sverre Waage, is played in the worlds smallest circustent with an aerial rig. Through text and ropeclimbing Karoline is wondering about how the body and the mind works and why. The show has played over 200 times in Norway, Iceland, Portugal and Sweden.
http://www.cirkusxanti.no/bastart-2/
ELVEN OG HAVET
"Elven og Havet" (The sea and the river) is a show with "Det lille mekaniske loppesirkuset" and Rudi Skotheim Jensen as director. The show takes its inspiration from Norways maritime belonging and what it means to be out on the sea. It is an adventurous journey through myths, legends and absurdities.
http://www.loppesirkus.com/produksjonen.html
CIRCUS I LOVE YOU
We are three modern circus companies; Sirkus Aikamoinen from Finland, Kohz Productions from France, Tanter from Denmark and Möjlighet Ministeriet fron Sweden who are initiating a circus project called Circus I Love You. We are in total 7 acrobats and a musician creating a show which will premiere in 2018. The working collective will buy a circus tent and do a tour with the show. The crew consists of Julien Auger, Andil Dahl, Benoît Fauchier, Mikkel Hobitz Filtenborg, Sade Kamppila, Oskar Rask, Jouni Ruuth and Karoline Aamås. The show will be a circusshow. We could call it «modern» or «unique», but in the search after what is the essence between us, we conclude that it is Circus. A little like traditional circus, but without traditions. A little like new circus, but nothing is really new. A little like contemporary circus, but without being artsy fartsy. Our group is filled with acrobats comparable to swiss army knives. In a time where everyone are spescializing in a certain discipline, we have decided to not focus on a certain skill. We all do several circus disciplines and play music as well. The show will best be compared with prog-music, translated into prog-circus. It will not be seperated into acts or numbers but played as one long song. The show will be built up by the circus disciplines banquin, perch, hand to hand, teeterboard, acrobatics, rope, hair-hanging, slack rope, roue cyr, spiral, rollerskates, juggling, skipping rope and chinese pole.
https://www.facebook.com/circusiloveyou/?fref=ts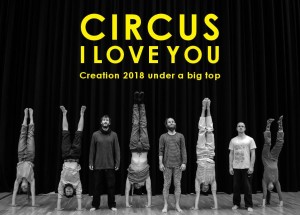 TA EIT TAK
This is a promo-video for Sparebanken Møre. Though Im not into commercials I made an exception for this experience. I got a huge scholarship from them, and here Im contributing in the video hanging over the great mountains by the west-fjords in Norway.
TUKO PAMOJA
In January 2016 I went to Nairobi with Hege Eriksdatter Østefjells to collaborate with artists from Sarakasi Trust through the project Tuko Pamoja. We wrote a blog and you can read about our experience here:
http://kushiriki.weebly.com/